Monday thru Friday
8:00am to 4:30pm
Call our Poplar Bluff facility with any questions:
573-785-2928, or toll free 800-392-0754
WE are proud to have served the City of Poplar Bluff since 2000. As of September 2016, we are pleased to serve the city's most popular origination and destinations. From Walmart to Three Rivers College, from Save-A-Lot to Twin Towers, from the VA to the Industrial Park, we're gladly serving the residents and visitors of our community

We are closed Saturdays, Sundays, major holidays, and during inclement weather.
We Operate two buses on a deviated fixed route. Each stop location has a service available every 30 minutes.
Each stop location is serviced every 30 minutes. Bus 1 operates 8:00AM to 4:00PM. Bus 2 operates 8:30AM to 4:30PM. As an example, Bus 1 would be at Wilson Apts. at :10 each hour. Bus 2 would be at Wilson Apts. at :40 each hour.
The stop times are on the maps on the back side of this schedule. Stop times are at the same minute after each hour. As an example, the bus stops at Twin Towers at 10 minutes (:10) after each hour, or 10:10, 11:10, 12:10, etc. for each hour of service.
Deviated Stops. Our riders may request to board or deboard the bus at safe, legal stops up to ¼ of a mile off our published route lines on the back of this schedule. Requests for Deviated Stops must be made at least one day in advance by calling our office. Our staff can help riders determine if the stop is within the ¼ mile limit. Deviated Stops are available as capacity allows in order to maintain timely service on our routes, but we'll do our best to accommodate as many requests as we can. To help, Deviated Stop service may be provided alternatively by SMTS vehicles at no additional fare to the rider, but still subject to capacity. SMTS service will meet or exceed the service provided by CONNECT.
Request Stops. In addition to Always Stops, each of our four routes also has specific stops where we will stop only by request to board or deboard there. There are 3 ways to request this service:
The rider may ask the driver to deboard at a Request Stop
The rider may ask the driver to be picked up at a later, scheduled Request Stop time on the same day
The rider may call the office at least 30 minutes before the scheduled Request Stop time and ask to be picked up
Always Stops. A location where we stop every time the bus makes the loop – where we "Always Stop."
Prepaid Punch Cards may be purchased from the CONNECT bus driver, at the SMTS office, or may be obtained through some local agencies. Cards may be used by anyone. Multiple riders can use one Card at the same or different times — the Card will be punched once per rider per boarding regardless of who is using it or the number of riders using it at the time.
Anyone may purchase prepaid punch cards. Cards can be used to ride anytime. We have two Card denominations to choose from:
$10 for 6 daily passes (1 free daily pass)
$20 for 12 daily passes (2 free daily pass)
$30 for a Monthly Pass (unlimited use)
Monthly passes are good for one calendar month and can be purchased in advance from the CONNECT driver or at the SMTS office. Monthly Passes require the rider's name to be legible on the Pass and may be subject to verification.
Cards may also be used on the local SMTS Reservation Bus, but will be punched once per dollar equal to the charge on the Reservation Bus (each punch will equal one dollar).
Cards should be treated as cash and are nonrefundable. Lost or stolen cards will not be replaced.
Promotions: Every now and then, CONNECT may offer free rides for all riders for a limited time. Free rides do not apply to SMTS service.
Children under 5 years old ride for FREE.
Children under 18 years old must be accompanied by a parent or guardian.
Cash fairs must be exact – drivers wont provide change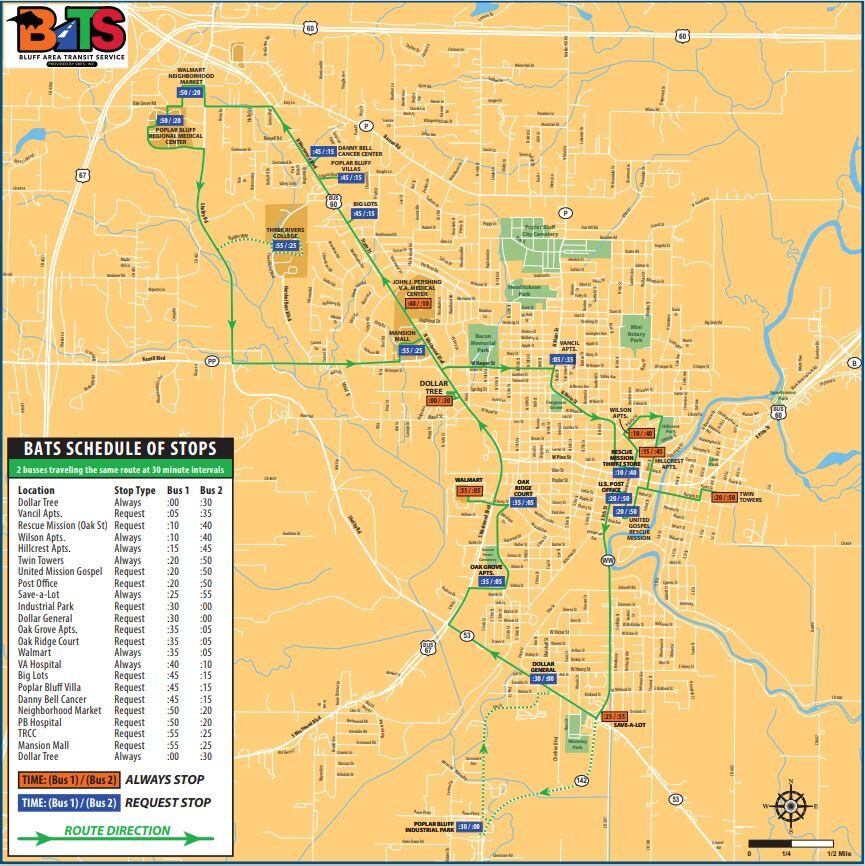 Although we strive to stay on time for each of our stops, we may run up to 10 minutes late from time to time due to unforeseen reasons. We appreciate your patience and cooperation while we work to get back on schedule. We will not leave before the scheduled time at Always Stops, but we may run up to 5 minutes early at other stops. Please plan your trips accordingly.
Dwell time. Our vehicles may remain stopped (or dwell) at an Always Stop until the scheduled time is met or passed to provide opportunity for riders to catch the bus. If the bus is running late, the driver will dwell at an Always Stop only for a few moments.
All CONNECT riders must properly use a seat belt at all times the bus is moving. Wheelchairs and riders in wheelchairs also must be properly secured at all times the bus is moving. There are no exceptions.
Children & Child Safety Seats. Children under the age of 4 are required to be properly secured in a Child Safety Seat at all times the bus is moving. Children are not permitted to be held in the arms of another person or remain unsecured while riding CONNECT.
Children between 4 and 8 years old may use a booster seat, with a lap and shoulder belt; otherwise the child may sit directly on the bus seat and use the lap belt provided.
We do not provide child safety seats or booster seats.
We gladly welcome service dogs with their owners. We may ask the rider if the dog is a service animal and what service the dog provides before permitting it to accompany the rider on our vehicles. Service dogs that bark incessantly or present a danger to the driver or other riders must be confined or constrained.
Comfort and therapy animals are not considered service animals and are not permitted on board.
Help our drivers stay on time. All riders should be ready to board when the bus arrives and be ready to deboard the bus at their stop.
Riders Rules of Conduct. SMTS has published a Riders Rules of Conduct brochure ("A Positive Experience Starts with You"). Ask your driver for a copy; CONNECT riders are expected to follow the rules.
Grocery bags, etc. We allow our riders to bring groceries and other purchases on board, but all riders are limited to what the rider can safely carry on and off the vehicle in one boarding without the assistance of the driver. We reserve the right to limit the number of bags and the size of packages allowed on the vehicle at the discretion of the driver, based on capacity and other criteria. Riders are not permitted to leave any belongings, including groceries, unattended on the CONNECT vehicle for any length of time.
And this …We can help you plan your route, just give us a call. … You can help us make the service better: share your ideas with us! … Bus stop signs and bus stop shelters are high on our priority list.